Past Events
Latest update: Nov 14, 2012
2012 Fall Dinner
On November 3, 2012, forty six people attended the fall dinner gathering at Royal East Restaurant, Cambridge, MA. The dining room was decorated with green and white balloons and streamers. We had a record number of first-time attendees: alumni Chloe Leung, Simon Nip, Jane Li, Karen Chan, and Kira Fu; family members Shamina Abdullah, Louis Lau, and Zarina Nip; exchange students Jesse Zhou, Skelton Zhou, Roy Lam, Adam Tang, Karman Leung, Yuan-Yuan Shen, Terry Ng and Justin Lu. An interactive activity "Treasure Hunt" before dinner provided an opportunity for attendees to mingle and find out a little about one another. Tony Yu led everyone in singing the HKU Centennial song, "Brighten me with virtue." At the dinner, Sau-Fong Siu thanked Milly (Ng) Lau for helping her with planning this gathering. Sau-Fong also announced that she is stepping down as coordinator and passing the baton to the younger generation.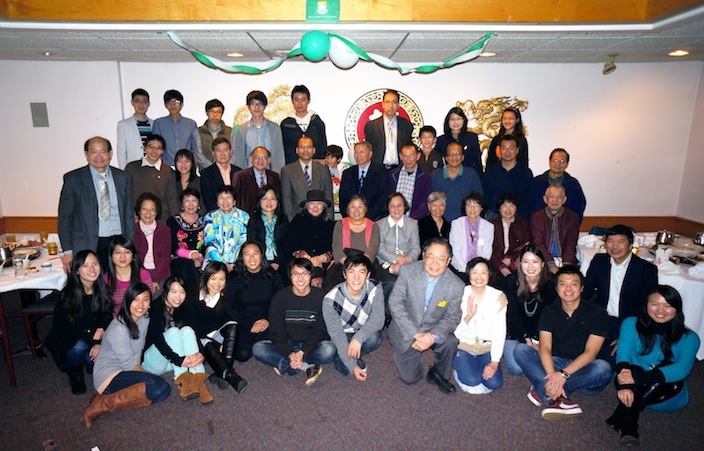 2012 Small Group Meeting
On September 30 three exchange students (Skelton Zhou, Jesse Zhou, and Roy Lam) met with their mentors, Professor and Mrs. Yum Tong Siu, for lunch in Chinatown. They were joined by alum Milly (Ng) Lau and her husband Louis Lau.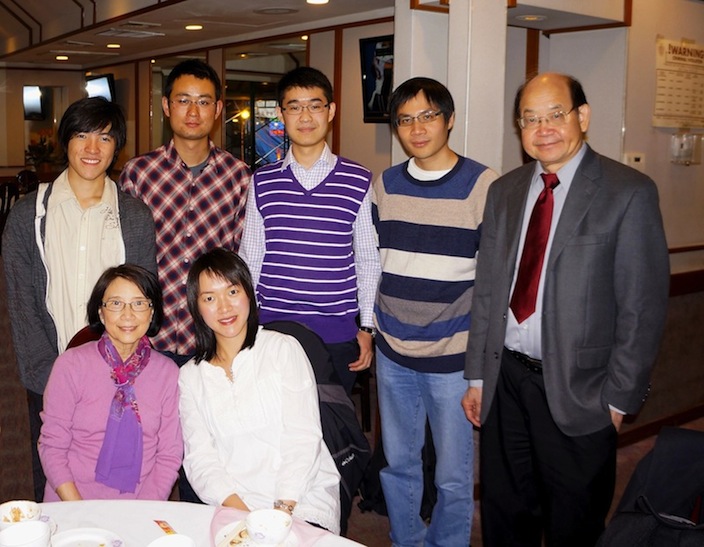 2012 Spring Luncheon
On April 21, 2012, fifty people attended the spring luncheon gathering held at Yangtze River Restaurant, Lexington, MA. (This is the largest gathering we have had.) First-time attendees included  Irene Chan, David Leung, Jenny Lau, Ronald Tsang, Tam Wai Ming, Lesley Zhang, Karen Lo, Wai Lo, Jessica Cheung and Daniel O'Connell.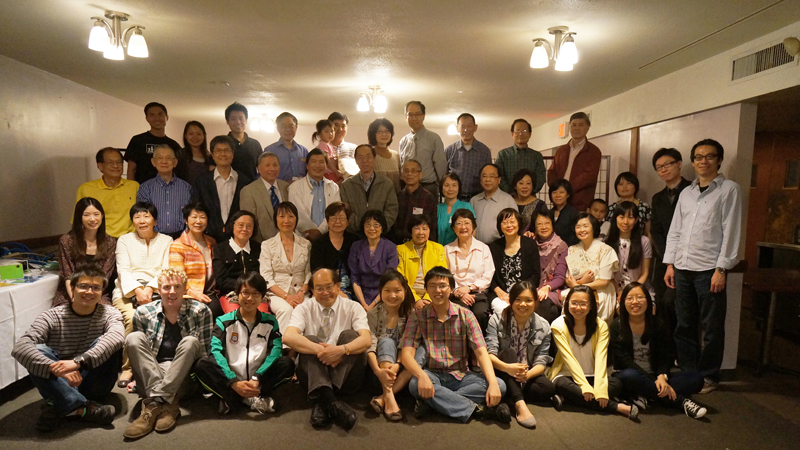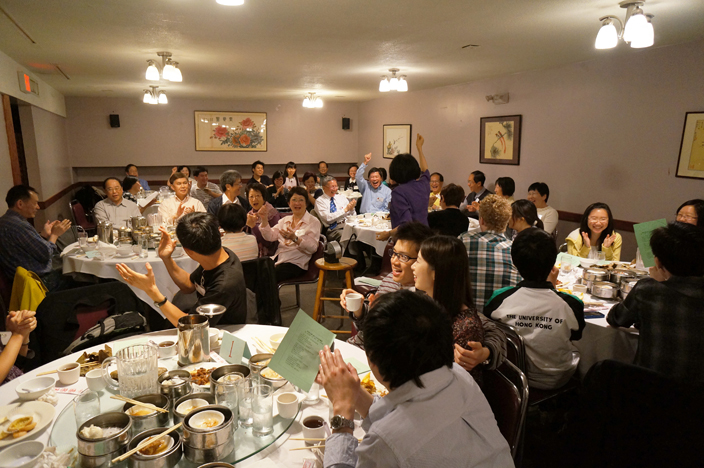 2011 Fall Dinner
The dinner was held on October 29, 2011 at Joyful Garden Restaurant, Brighton. Although snow was falling outside all evening,  an enthusiastic crowd of 42 (4 exchange students, 3 children, and 35 alumni and spouses) enjoyed the dinner and conversation.  A warm welcome was extended to six alumni who were first-time attendees. The highlight of the program was a talk on the basics of skin care given by Dr. Maisie Tam 譚敏慈, a dermatologist with Lahey Clinic. The samples of skin care products she passed out were enthusiastically received!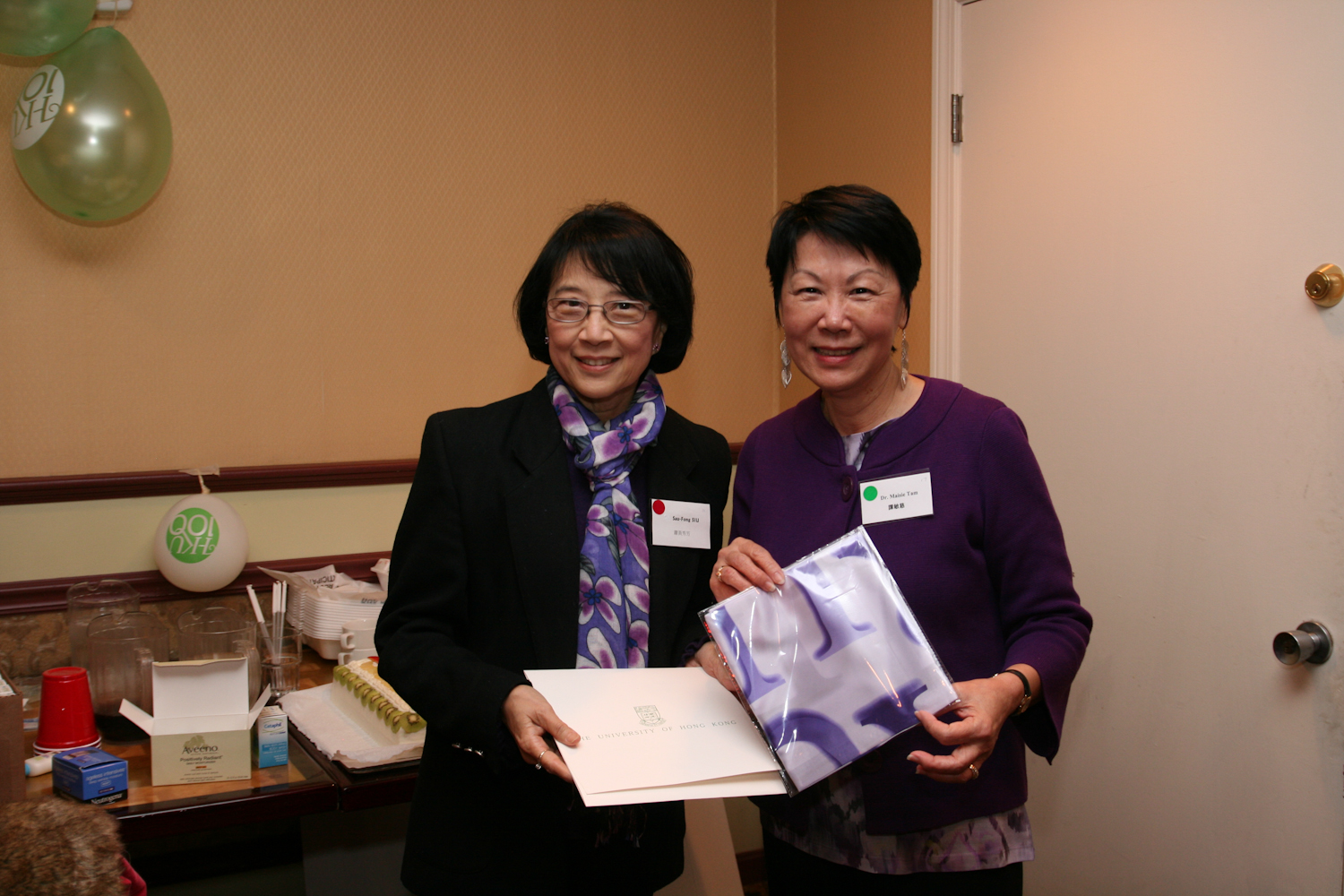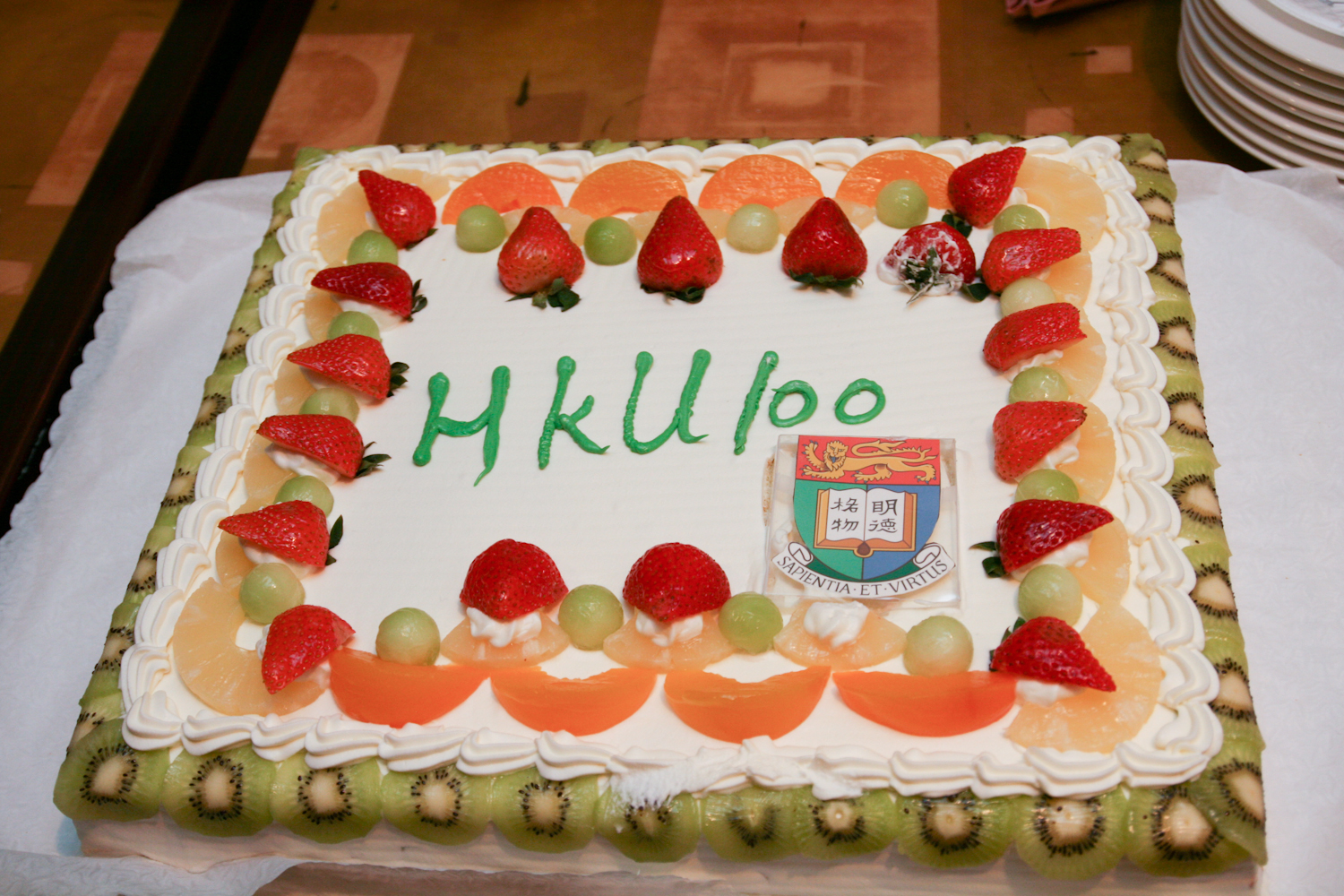 April 25, 2011
2011 Special lunch meeting of alumni (Yum-Tong and Sau-Fong Siu, Yifan Zhang) and five HKU exchange students at Bentley on April 24, 2011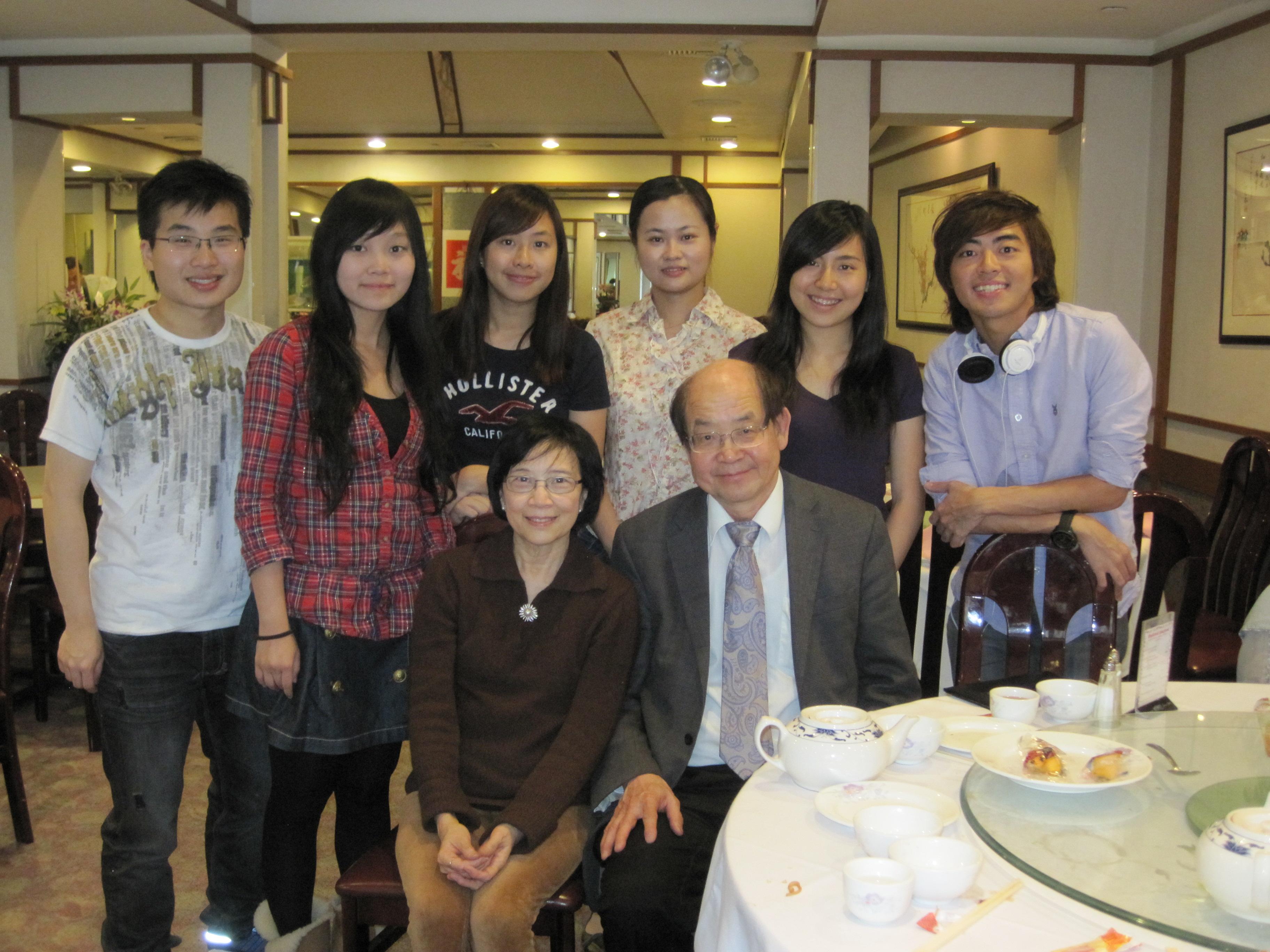 2011 April Luncheon
The New England alumni network held a successful spring luncheon at Yangtze River Restaurant, Lexington on April 16. It was attended by 34 adults and one child. Everyone noticed the HKU Centenary white, yellow, and green balloons hanging from the ceiling, a reminder that our alma mater is celebrating her one hundredth anniversary this year.  Mr. LEE Chau Ming (B.A. 1973), Executive Director of Asian American Civic Association and a long-time member of the Chinatown Coalition, gave a short presentation on the history, service needs, and new developments of Boston's Chinatown.  Among first-time attendees were Father Alvaro Ribeiro (former warden of Ricci Hall and former lecturer of the Department of English), exchange students Jessica Tang (Wellesley), Himsley Chau (Bentley), and Jeffers Leung (Bentley). On behalf of the members of the alumni network, SIU Wong Sau Fong thanked the four young alumni who developed the website: Eddie MA, TIN Chung, Zion TSE, and  Keith WONG. Souvenirs were presented to them by Dr. Stephen Louie, past president of the HKU Student Union.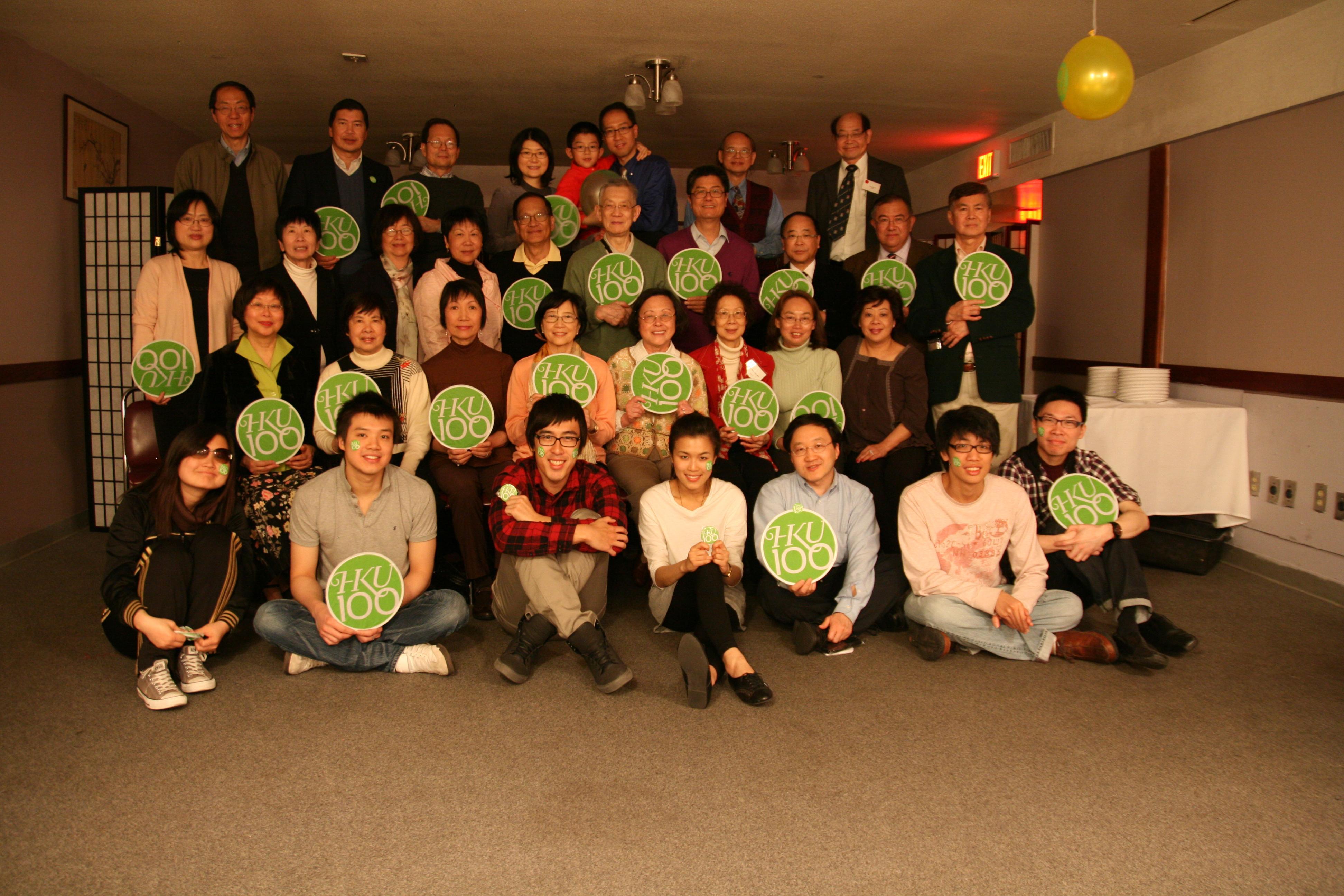 2010 Fall Dinner
The New England Alumni Network had a wonderful dinner gathering with 33 attending. One of our alum, Dr. CHIU Son Mei 趙洵美 (B.A., 1965) gave a fabulous slideshow presentation on her teacher CHAO Shao-An's Ling Nan School of Chinese Painting. (CHAO 趙少昂, a distinguished artist, received an honorary degree from HKU in 1994.) Four of the five exchange students came.
Other events:
2010 July Reunion of 2009-10 Exchange Students - Hong Kong Landmark Cafe
2010 Spring Luncheon - Yangtze River Restaurant, Lexington
2009 Fall Dinner - Chau Chow City Restaurant, Boston (details)
2008-09 Exchange Students Sharing
2009 May Luncheon - Yangtze River Restaurant, Lexington
2008 June Luncheon - Royal East Restaurant, Cambridge
2007 Fall Dinner - Heilamoon Restaurant, Boston (details)
2007 Spring Luncheon, Yangtze River Restaurant, Lexington (details)
2006 Februrary Alumni Welcoming HKU Undergrad Attendees of a Conference at Harvard University
2005 May Alumni Dinner -HKU Vice-chancellor Prof. Tsui Lap Chee in Boston, Hyatt Regency Hotel, Boston
2004 April Alumni Dinner hosted by HKU at the Harvard Faculty Club